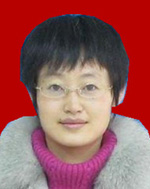 Personal Information:
  Jiayue Feng, female, born in December 1977, Qishan,Shaanxi, Ph.D., lecturer, tutor for graduates. She graduated from Northwest A&F University with bachelor (2001) and master (2004) degree of Vegetable science, respectively, and worked in the same school so far. She got her doctorate degree of Vegetable science from Northwest A&F University in 2012. 11/2007~12/2009, as a visiting Ph.D. student sponsored by Chinese government to go to Professor Shunyuan Xiao's lab at the University of Maryland to study the mechanism of broad-spectrum disease resistance gene RPW8.2 in plants.
  Research direction:
  Dr. Feng focuses on the study of flower and strawberry germplasm innovation and genetic improvement.
  Teaching Courses:
  Dr. Feng has undertaken "Protected flower plants cultivation" and other courses for undergraduate students.
  Achievements:
  Dr. Feng focuses on the research of flower and strawberry germplasm innovation and genetic improvement. Current research in the Feng Group is supported by National Natural Science Foundation of China (Grant No. 31201657) and the Agricultural project of Shaanxi province (Grant No. 2014K02-02-02)。 Selected publications as follows:
  1. Jiayue Feng, Jing Li, Hong Liu, Qinghua Gao, Ke Duan, Zhirong Zou. (2013) Isolation and Characterization of a Calcium-Dependent Protein Kinase Gene, FvCDPK1, Responsive to Abiotic Stress in Woodland Strawberry (Fragaria vesca) . Plant Molecular Biology Reporter, 31(2): 443-456.
  2. Yingqiang Wen, Wenming Wang, Jiayue Feng , Ming-Cheng Luo, Kenichi Tsuda, Fumiaki Katagiri, Gary Bauchan and Shunyuan Xiao. Identification and utilization of a sow thistle powdery mildew as a poorly adapted pathogen to dissect post-invasion non-host resistance mechanisms in Arabidopsis. Journal of Experimental Botany, 62, 2117-2129
  3. Yang, X., Wang, W., Coleman, M., Orgil, U., Feng, J., Ma, X., Ferl, R., Turner, J.G., and Xiao, S. (2009)。 Arabidopsis 14-3-3 lambda is a positive regulator of RPW8-mediated disease resistance. Plant Journal, 60, 539-550.
  4. Feng, Jiayue,Zou, zhirong , Qin, shenghua, Wang, xinbao and Chen, xiubin . Cucumber in vitro Highly Frequent Regeneration System Establishment from Cotyledons Nodes and Ploidy Identification. Acta Botanica Boreali Occidentalia Sinica , 2008, 28, 5: 0956-0962 (in Chinese)
  Contact Address:
  Address: No.3 Taicheng Road, Yangling, Shaanxi Province.
  College of Horticulture, Northwest A&F University
  Zip Code: 712100
  Tel: 86-029-87082613(O); 86-18991298312 (cell phone)
  E-mail: Fengjy19151@nwsuaf.edu.cn