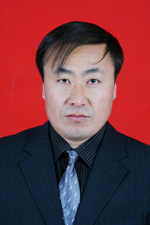 College of College of Horticulture,
  Northwest A&F University
  Yangling, Shaanxi 712100 China
  Telephone: +86-29-87082613
  Fax: +86-29-87082613
  Email: yangjunzou@126.com
  Education:
  2012-2013 Visiting scholar, Plant and Food Research, Havelock North, New Zealand.
  2002-2006 Ph.D, Pomology, Northwest A&F University
  1989-1993 B.Sc., Pomology, Southwest Agriculture University
  Research Interests:
  1)The mechanism of gene expression regulation during adipocyte proliferation, differentiation and apoptosis.
  2)The molecular mechanism of myoblast development and muscle fiber type determination.
  Projects:
  1)Shaanxi Province Science Project " Study on Pollination Technology of Apple "
  2)Tang Zhongying breeding Project of Northwest A&F University
  Recent Publications:
  1) Chang Cong, Li Chao, Li Cuiying, Kang Xiaoyu, Zou Yangjun*, Ma Fengwang. Differences in the Efficiency of Potassium (K) Uptake and Use in Five Apple Rootstock Genotypes. Journal of Integrative Agriculture (formerly Agricultural Sciences in China), 2014
  2) Yin Lihua, Zou Yangjun(co first author), Li Mingjun, Ke Xiwang, Li Cuiying, Liang Dong, Ma Fengwang*. Resistance of Malus plants to Diplocarpon mali infection is associated with the antioxidant system and defense signaling pathways. Physiological and Molecular Plant Pathology, 84: 146-152, 2013
  3) Liu Binghua, Cheng Liang, Ma Fengwang*, Zou Yangjun, Liang Dong. Growth, biomass allocation, and water use ef?ciency of 31 apple cultivars grown under two water regimes. Agroforest Syst84:117-129, 2012
  4) Yin Lihua, Li Mingjun Ke Xiwang >; Li Cuiying, Zou Yangjun, Ma Fengwang*. Evaluation of Malus germplasm resistance to marssonina apple blotch. European Journal of Plant Pathology136 (3): 597-602, 2013
  5) Liu Binghua, Li Mingjun, Cheng Liang, Liang Dong, Zou Yangjun, Ma Fengwang*. In?uence of rootstock on antioxidant system in leaves and roots of young apple trees in response to drought stress. Plant Growth Regulation, 67(3): 247-256, 2012
  6) Zhang Xin, Qin Yuan, Liang Dong, Zou Yangjun, Ma Fengwang* .Enhancement of in vitro shoot regeneration from leaf explants of apple rootstock G.41. In Vitro Cell.Dev.Biol.-Plant DOI 10.1007/s11627-013-9588-7, 2013