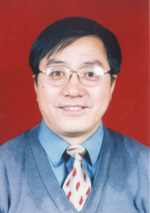 1. General information
  Family name: Dang
  First name: Yonghua
  Gender: Male
  Date and place of birth: Born in July of 1957 in Chang'an County of Shaanxi Province.
  Title: Professor
  E-mail: dangyonghua@163.com
  Tele: +86-29-87082613
  Fax: +86-29-87082613
  2. Education and working experiences
  1978.03-1981.12: Undergraduate study at the Department of Horticulture, Northwest Agricultural University, Yangling, Shaanxi.
  1982.01-1999.10 Associate Professor, Institutor of Vegetable, Academy of Agricultural Sciences Shaanxi Province
  1999.11-: Professor, College of Horticulture at Northwest A&F University Yangling, Shaanxi, P. R. China.
  3. Courses given to undergraduate, graduate and Ph. D students
  4. Main interests in research
  (1). Vegetable Genetic Breeding
  (2). Greenhouse Vegetables Plant culture
  5. Main academic activities
  (1). Take charge in the demonstration of greenhouse vegetables in AN SAI county in North Shaanxi, meanwhile emphase on technical difficulties of virus disease of chillies and tomatos. Based on research, he comes up with initiatives to solve the problems. With these results of research, the yield of tomato increases from 6600kg per mu to 17700 kg per mu. The economic benefits also increases significantly.
  (2). Act as a technical director of planting in Li Tai country and Wu Quan country in Yangling. Main duty is to guide them to build greenhouse and solve technology problem in every planting stage (include species selection and growth technology). The sunlight greenhouse construction in Yangling developed rapidly and the personal income of planter increased obviously. Due to these achievements, he has been awarded the title of "expert in rural development".
  6.Awards
  (1). "Zhen Hua technic poverty alleviation outstanding contribution" by Ministry of Science and Technology of PRC.
  (2). "Technology progress prize of the People's Government of Shaanxi province (Second Prize)" by the People's Government of Shaanxi province.
  (3). "Technology generalization prize of the People's Government of Shaanxi" By the People's Government of Shaanxi province
  7.Main publications
  (1). DangY. 2009. New Technology on Awning Vegetables. Shaanxi science and technology press
  (2). Dang Y. 2005. New Varietis and New Culture Technology on Sunlight greenhouse Tomato. Northwest A&F University press
  (3). Dang Y. 2006. Problem and Thinking about Production Development of Sunlight Greenhouse on the Loess Plateau in North Shaanxi Province. Chinese Agricultural Science Bulletin.
  (4). Dang Y. 2006. Issues on Sustainable Development of Installation Vegetable Industry in Shaanxi Province and Its Strategies. Anhui Agricultural Science Bulletin.
  (5). Dang Y. 2005. Preliminary Study on Vegetable Industrialization Development Stratagem in Shaanxi Province. Journal of Northwest A﹠F University (Social Science Edition).
  (6). Dang Y. 2003. Effect of Seedling Stage, Nursery Substrate and EM on Early-mature Tomato. Acta Agriculturae Universitatis Jiangxiensis.
  (7). Dang Y. 2003. Effects of different density and fertilizer supplying level on the Yield, colony quality and physiological index of the super sweet corn "Shuang Yuan 600". Journal of Gansu Agricultral University.
  (8). Dang Y. 1999. Reaction to Low Temperatures of Leaves at Different Plant Position of Different Cucumber Cultivars. Acta Aggriculturac Universitatis Henanensis.
  (9). Dong Y, et al. 2010. Grafting and planting technology of eggplant in the sunlight greenhouse. Northwest Horticulture
  (10). Dong Y, et al. 2010. Efficient fertilizer application technologies in capsicum in the greenhouse. Northwest Horticulture
  (11). Dong Y, et al. 2010. Management suggestions of winter vegetables in the sunlight greenhouse. Northwest Horticulture